Night of Worship
Friday, October 15th @7PM
We were created to worship! We exist to worship the one, true, and living God. Often the object of our worship can become other people, places, possessions, or even positions. This night is designed to re-focus our attention and admiration on the only one deserving of all our praise and worship. Come join us for a night full of powerful, uplifting, rejuvenating, and creative praise and worship featuring music from the worship ministry of Grace Gospel Tabernacle. Space is limited! Save your seat by clicking here.
Fearless Intercession
Saturday, October 16th @7PM
Do you have a desire to become closer to your Heavenly Father? Don't you want to see your loved ones healed, delivered, and set free? Don't you want your prayer life to go to another level? If the answer to these questions is a resounding yes, then Fearless Intercession is where you want to be! Save the date and don't be late! Space is limited! Save your seat by clicking here.
Encounter
Sunday, October 17th @10AM
We are BACK! Get ready for the launch of our brand new 10AM service. Come join us for a time of impactful praise and authentic worship and free giveaways followed by a life-changing message from our very own Pastor Wilton DeGraffe. Remember, you can also stay for our 12PM service. For more information, click here.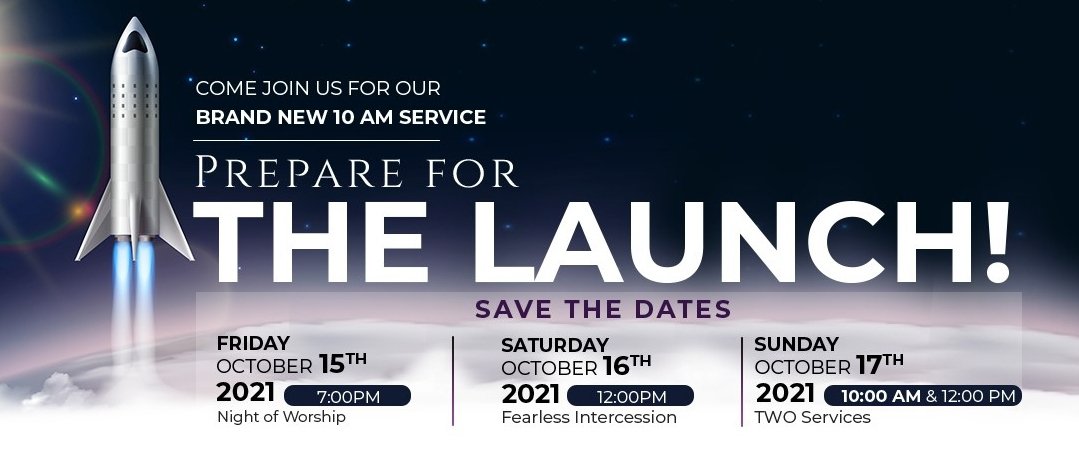 Got Questions?
Have a question about The Launch? Get in touch with our launch team directly by clicking the button below.